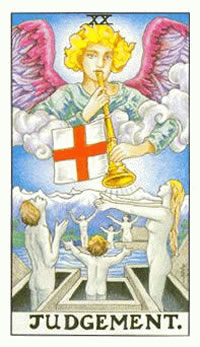 Trial
——Resurrection (corresponding astrology: Pluto)


Interpretation of the cards:
The card depicts the angel blowing the horn, so that the deceased who heard the music can be redeemed. The horn of an angel can awaken the emotions of all people, and even confessed sinners have the hope of reaching heaven. The angel's horn symbolizes that the old concept is dead, and people are embracing the new world under the call of music. Pay attention to decision and recovery when solving cards.
You are also summing up your past experience, discarding mistakes and leaving valuable knowledge. At the beginning of the new world, you will find that you are not alone. There are many friends who study with you. Although you have never lived before, the Templar Angels let you help each other, which makes your life more enjoyable.

Orthogonal interpretation:
The joy of resurrection, recovery, confession, good news, good luck, first appearance, resurrected love, reunion, miracle of love. When the cards stand upright, you have surpassed yourself in your career and succeeded on the basis of past hard work. Both parties are studying and growing emotionally. Although the changes on the surface are not big, the changes on the inside are already big.

Inverse interpretation:
Desolation, disillusionment, concealment, bad news, inability to decide, lack of goals, no progress, elimination, reluctance. Lack of clear judgment in career, trying to fill the emptiness of spirit with material. Emotionally, constantly recalling the good times in the past, and unwilling to face up to the problems in front of you, your relationship is already close.