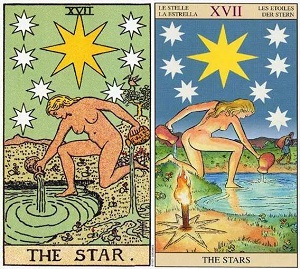 star
——Hope (corresponding astrology: Aquarius)


Interpretation of the cards:
This is a card with hope in the depths. Under the shining of the star of hope, Sirius, the goddess of hope pours the holy water in the holy water bottle into the pool that symbolizes the subconscious. She knew that people needed hope so much, so when one bottle of holy water was poured out, she was pouring another bottle. As long as there is hope, people can have enough motivation to accomplish many things, so hope is the source of human vitality.
Let us dedicate all our love, even though it is in the dark night, the stars in the sky will guide us and lead us towards a bright future under the guidance of the stars. There is another point in the meaning of stars that is easily overlooked, which is the meaning of "pregnancy".

Orthogonal interpretation:
Bright future, full of hope, imagination, creativity, fantasy, satisfaction of wishes, improvement of standards, ideal objects, and beautiful relationships. It means that when you get the energy of hope in your career, your future will be extremely bright. In terms of relationships, you have confidence in yourself and an optimistic attitude towards the relationship between the two. Believe that you can seize the initiative and strive to pursue each other. You are probably the destined pair.

Inverse interpretation:
Frustration, disappointment, arrogance, whimsical, rushed, backfired, unsatisfactory work, pessimistic situation, secret love affairs, life lacking love. In your career, you should not rely entirely on others' giving, because you still have hope burning in your heart. Only by yourself can you have the real motivation for development. In terms of relationships, you two cannot trust each other and feel that you cannot entrust yourself to each other. Maybe you can take a step back and calm down to find a way to solve the problem, because the answer is in your hearts.